Schnauzer kennel Von Tut Gut puppies
We don't have schnauzer puppies now!
Next litter is planned for the end of this year from our top quality female Nett Greit Sitara "Tara" imported from Russian Federation!
Contact us if you are interested in our puppies! Shipping worldwide is possible!
"D"Litter (Keops von Hosterhaus x Duchessa from Cindy Land)
Born 12.02.2019.
8 puppies | 5 males & 3 females
Schnauzer puppies photos (at the age of 8 weeks):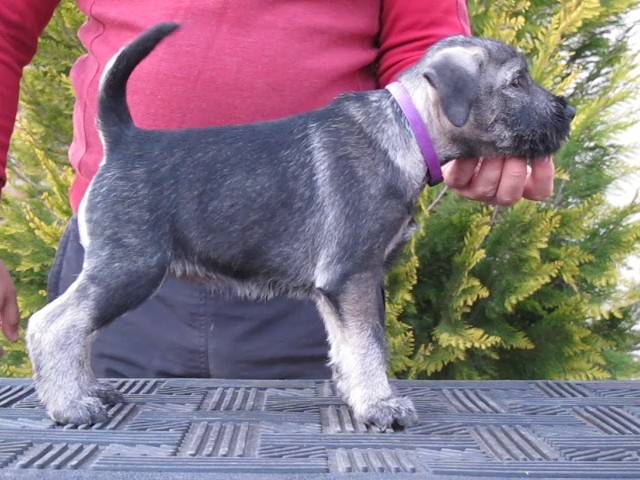 Information about our current litter "D":
Born 12.02.2019. | 8 puppies | 5 males & 3 females
Father: Keops von Hosterhaus (Agadir Alarm Beskyd x Viacirka's Lady of The Lake), HD/A, ED/0, Grand Ch Serbia, Grand Ch Romania, Ch Macedonia, Junior Ch Serbia, Jun Ch Bosnia and Herzegovina, 1xClub Winner, 2xJunior Club Winner, 1xDerby Winner, 3xVP, 9xJCAC, 13xCAC, 6xCACIB, 2xBOS, 11xBOB, 1xJBOG, 1xJBIS2.
Mother: Duchessa of Cindy Land (Nois Epoha Masaal Master x Clytia Pepper Grand Calvera) HD/A, ED/0, Ch Serbia, Junior Ch Serbia, 1xClub Winner, 2xPuppy Club Winner, 1xDerby Winner, 6xVP, 3xJCAC, 5xCAC, 5xBOB, 1xBOG3, 1xBabyBIS3, 1xPuppyBIS, 2xPuppyBIS2.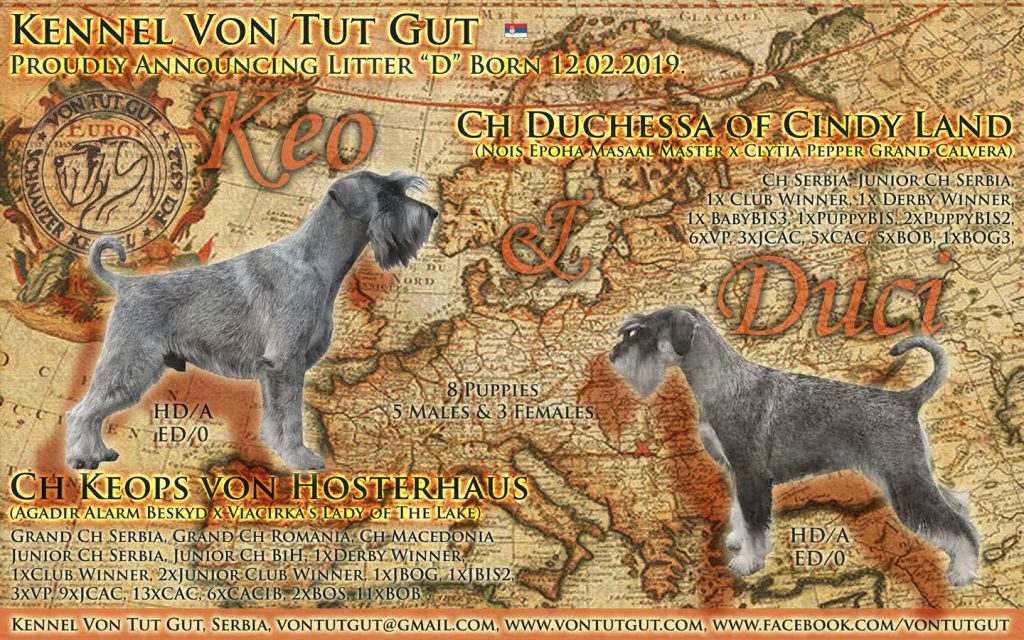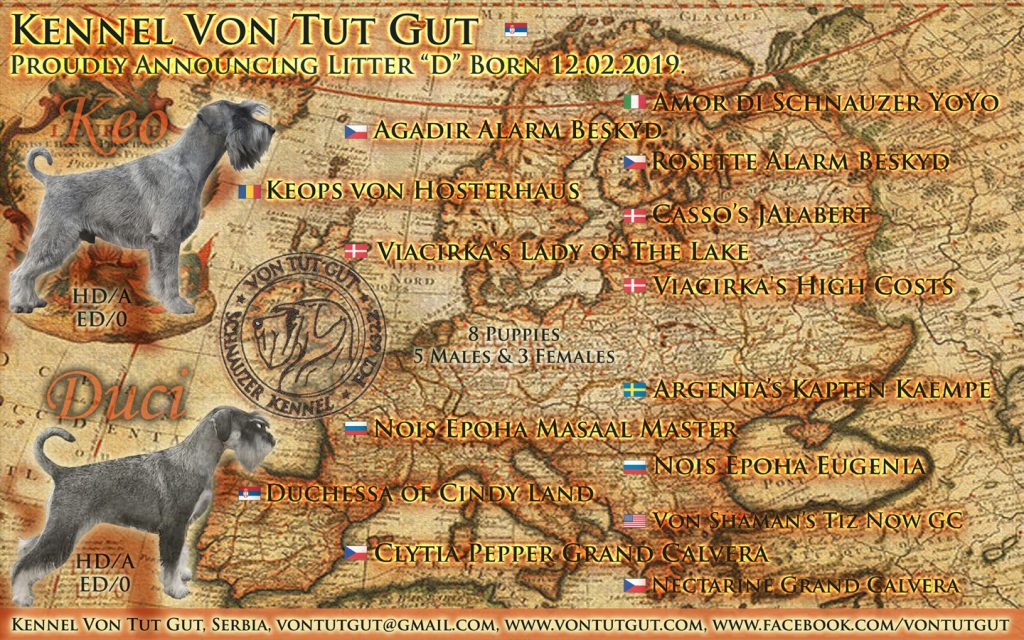 ---
Kennel Von Tut Gut offer quality pure breed standard schnauzer pepper & salt puppies for sale to show or pet family. All Von Tut Gut puppies can leave our kennel only after re-vaccination, they also have been multiple times preventive dewormed, and received full veterinarian health care. Von Tut Gut is registered kennel with the Federation Cynologique International (FCI), number 6322. We are also member of Schnauzer Pinscher Club of Serbia. All our puppies have full pedigree and for foreign buyers we will prepare export pedigree, pet passport, chip and certificate of health. We also organizing shipping worldwide.
Check our former litters here.